Unique Easter Basket Ideas
Headsup: this page may contain affiliate links as examples of items mentioned on this page. If you buy something through one of them, you won't pay a penny more but we will get a small commission. disclosure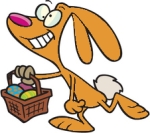 Easter gift baskets are usually all about bunnies, eggs, and loads of chocolates and candy, which is great of course. But every now and then we might fill the urge to come up with more unique Easter basket ideas.
If you are feeling this urge right now, keep on reading – you are in the right place!
How can you make an Easter gift basket a little different?
Easter Egg Basket With a Twist!
Replace eggs with 3D paper origami eggs made out of coupons!
This unique Easter basket idea will cost you nearly nothing but can be worth a fortune as long as you are willing to live up to the coupons you prepare.
The idea is simple:
Prepare coupons – scroll a little further down for free printable templates.
Fold the coupons into 3D origami eggs using this easy tutorial.
Fill a basket / egg box with your paper eggs (it's a good idea to add an instruction note saying "unfold us").
Bestow upon your loved ones.
Most importantly , be prepared to carry out your coupon gifts upon redemption!
Printable Easter coupon templates
Below are 2 free printable Easter coupon templates. They are square shaped so you can fold each coupon into a 3D origami egg after filling them in, and fill your gift basket with them.
When you click on the below images a PDF file will open up in a separate page. Each PDF contains 2 coupons. You can print them as many times as you wish for your personal use.
(Apologies for the large margins on the printable page- I tried fitting in 4 coupons in a page to be more eco-friendly but they turned out too small for the origami egg. )
If you want to fill the coupon on the computer before printing it, see how to do that using adobe acrobat (free of charge).
Thinking of printing the coupons on bold color papers ? Go for the  black&white coupon so that the print stands out.
Need inspiration on what to you can fill in the coupons? check out this page full of cool coupon ideas. Just be sure to fill the ideas you like in a square coupon if you want to fold it into an egg later (rectangle shape won't work with the origami).
"All About Eggs" Easter basket idea
Eggs are one of Easter's symbols right?
Then why not take it to the extreme with an egg theme gift basket?
Fill in a gift basket with everything to do with eggs. See this Easter basket for example.
Can you guess what's inside?
I listed the components below for you:
"All about eggs" Easter basket components in the photo:
Whisk
Egg slicer
Spatula
Three Chocolate eggs covered in aluminum foil and decorated with plastic eyes.
Four colorful origami paper eggs with surprise coupons printed on the inside + flag saying "unfold us".
Flower shaped egg ring.
Cupcake shaped silicone hot pot holder.
Egg separator.
Kitchen towel folded into a bunny (super easy to make! instructions to follow soon).
And a more comprehensive list of egg related ingredients to use:
Egg scrambler/ whisk
Small bowl – to beat eggs in (can also serve as the container)
Frying pan (can also serve as the container)
Spatula
Egg cups
sand clock/timer – for timing soft boiled egg cooking
Egg spoons – designed specifically to remove egg content from its shell through a small hole (but any teaspoon will do).
Egg piercer – makes a small hole in egg shell to prevent it from cracking when boiled.
Egg topper/ cracker– toppers remove the top part of egg shell and crackers do the shell breaking so your hands don't get dirty.
Egg separator – an essential kitchen utensil that separates yolk from egg white.
Egg slicer – cuts eggs into thin even slices.
Egg/pancake rings – for the perfect omelet shape.
Egg tray – to store eggs in.
Microwave omelet maker – to make the perfectly folded omelet in your microwave.
Egg cooking instruction magnet – I never remember how many minutes it takes to boil an egg and I suspect I'm not the one…
Egg recipes – write down some of your favorite egg recipes or print out some from the web (here's a nice option) and add them to your Easter gift basket. Alternatively you can include an egg related cook book in it.
Hen – for a final humoristic touch, get a hen plush toy or make one yourself. Place it on top of your gift basket as if it is hatching your gift items.
"All About the Basket" Easter basket idea
Instead of looking for a cheap basket to fill in with a variety of items, put the emphasis on the basket itself this time. Choose an up-scale practical container that can be used even after Easter is over.
You can choose a newspaper basket, a nice serving dish, a tool box, a picnic basket, a tote bag or many other useful containers.
For children choose playful containers such as a mini grocery cart,plastic play bucket, wagon, girl's purse, boy's backpack, pencil case etc.
In this case, the basket filler is secondary to the "basket" itself. You can fill your container with the traditional assortment of chocolates and candy (with a strong preference to bunny and egg shaped items of course).
Or you can go to the nearest dollar store and get inexpensive items to match the concept of your container. For example – fill in a child's container with crayons, coloring book, scissors, stickers and other crafty items. Fill in a girl's purse with hair accessories, pretend makeup and nail polish. For adults fill in a tool box with inexpensive working tools and accessories, fill in a newspaper basket with an assortment of the latest magazines or fill in a serving dish with kitchen utensils (see the next Easter basket idea for inspiration….).
Add an Easter spirit to these gift basket ideas with these Easter decorating tips.
If you happen to give your Easter gift basket ahead of time, take advantage of the timing and put together an egg decorating gift basket – a classic Easter basket idea. Here are ideas for items to include in it:
Stencils
Brushes
Egg blower and needle
Egg dye (or food coloring tabs)
Egg cups or egg tray – to keep eggs steady while decorating.
Stickers – wiggly eyes stickers are my favorite.
Permanent color markers
Small pompons
Glue
Egg dipper/holder – you can buy specially made ones, make one yourself by bending a wire or even include a soap bubbles blower instead.
Plastic eggs
straws
Felt in different colors
Wipes – to clean up the mess.
Small disposable bowls – for egg color dipping. One for each color.
Vinegar – helps egg dye stick onto eggs.
Rubber bands – placed on eggs before dying for a stencil like affect.
Crayons – if used on a warm egg, they will melt and create a special affect.
Glitter
Other Easter Basket Ideas
Bunny Slipper gift basket
Get a pair of bunny slippers and turn each one of them into a gift basket. Fill it in with bunny shaped items- chocolates, cookies, plush toys, stickers etc. Add some egg shaped items too to balance it off.
Try to give these slippers gift baskets to members of the same family to that someone can use them! (or you can keep the second one and reveal it later).
Easter Garden in a Planter gift basket
A really cool Easter basket idea (although it does not involve a real basket): Buy a large pot with a beautiful plant inside (a fruit bearing plat would be perfect). Cover the soil with shredded crumbled green paper to visualize grass, and stick jelly beans, small Easter eggs and bunny chocolates in between shredded pieces. Place a couple of children figurines on the "grass" and wrap it all with cellophane paper. Your master piece will look like a miniature Easter egg hunt scene!
Easter Basket Decorating Tips
No matter which Easter basket idea you come up with, you can always add an Easter feeling to it with these decorating ideas:
Cut rabbit shaped ears out of cardboard and stick it onto the container's top part or basket handle (here's a rabbit ears template you can use. Don't forget to color them).
Add bunny and egg shaped items (small toys, plastic eggs, cookies and of course chocolate and other candy) to your basket. Hang one of these items off your container with a pretty ribbon.
Shred some green paper in a shredder, cut it manually using scissors or buy ready made green filler. Use the shredding as a grass like filler in your gift basket.
Add small plastic flowers in-between gift items for a floral spring time feeling. You can use Hawaiian leis necklaces which can be found at any dollar store for this purpose. Simply tangle the flower necklace in-between your gift item or cut it and scatter the separate flowers in the basket.
Looking for other Easter basket ideas that do not involve bunnies, eggs and chocolate?
Put together a gift basket based on your recipient's hobbies or personality. Click on the links to find out more.