Affordable Cool Gift Ideas to Include in a Woodworking Gift Basket
Headsup: this page may contain affiliate links as examples of items mentioned on this page. If you buy something through one of them, you won't pay a penny more but we will get a small commission. disclosure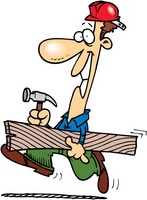 If your recipient is an avid DYI carpenter or aspires to become one, a woodworking gift basket filled with the below affordable cool gift ideas is an excellent choice!
This gift basket can serve as an excellent birthday gift for him or a father's day gift basket.
Get some or all of the below affordable items and put together a gift basket any carpentry lover would love to have.
Woodworking gift basket ingredients
Screws and nails– include an assortment of wood screws and nails in different sizes.
Wood glue
Sanding paper – a coarse grit paper for initial sanding and a finer grit for a smooth finish.
Sanding block – a rectangle block to hold sanding paper with. It can even be a piece of wood.
Bar clamps – to hold wood in place when sawing, gluing etc.
Hammer
Pliers
Chisel
Level
Tape measure
Try Square – measures 90 degree angles accurately.
Screwdriver – both Phillips and Flathead screwdrivers are useful.
Drill bits -if your recipient has an electric screwdriver / drill. Make sure you get ones for wood.
Protective mask – very helpful when sanding.
Protective glasses– to protect eyes against flying splinters and chips when sawing.
Work gloves
Tweezers- to get those splinters out.
Ear plugs
First aid kit
Book about woodworking
Woodworking Magazine – a copy of a magazine about woodworking or even a subscription to one.
Woodworking project plan – include a beginner's woodworking project instructions your recipient can try out (there are many free plans on the internet). A cool gift idea will be to also include pre-cut wood for this project so your recipient can have a go at it as soon as you hand him/her this gift basket.
Self made workshop – If you are a DYIer or carpenter yourself, use one of these blank gift certificates to invite your recipient to a one-on-one workshop with you!
Want to splurge some more? how about a
Woodworking workshop – a cool gift idea for any aspiring woodworking that doesn't have the guts to start. Enroll your recipient to one. I participated in a woodworking workshop myself and it was one of the best things I have done.
Electric saw
Electric Drill
Workbench