The Best Travel Gift Ideas to Include in a Gift Basket for Frequent Travelers
Headsup: this page may contain affiliate links as examples of items mentioned on this page. If you buy something through one of them, you won't pay a penny more but we will get a small commission. disclosure
If your recipient travels a lot on business, check out these inexpensive yet essential travel gift ideas.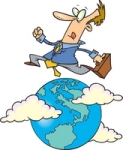 These items can make the difference between a successful business trip and a business trip from hell… So get some or al of them and put together a life saving travel gift basket for your recipient to love!
Frequent Traveler gift basket ingredients:
Packing Checklist – a free travel gift idea! print out this business travel packing list and include it in your gift basket – your recipient will never leave anything behind again. You can even laminate it, so it can be used on numerous occasions. click to download
Travel essentials
Travel adapter plug – an international plug with a USB port is the best choice to cover all grounds because battery life becomes crucial when traveling.
disk on key
Chewing gum – preferably a fresh mint flavor. For these awkward bad-breath moments with no access to a toothbrush/bathroom (e.g. when woken up on the plane just before landing).
Portable mouse – crucial for those who struggle with laptop touchpads (like me…)
Passport cover
Pen – it is so annoying not to have one when you need to fill in landing cards or to quickly jot down a phone number.
Notepad – to write notes in when electronic gadgets cannot be used or when you are running low on battery.
Wallet – when traveling overseas you usually don't need most of your daily wallet's content, and it's a pain emptying it for the sake of the trip. Therefore an extra wallet for traveling to store all relevant essentials (foreign currency, prepaid phone cards, passport etc.)  immediately ready for use is the perfect solution.
Luggage name tag – a cheap yet practical travel gift idea to help identify one's luggage. Choose a tag that sticks out.
Coffee/ tea bags – most hotels amenities include electric kettles so upgrade your recipient's stay with a few of his/her favorite coffee/tea bags.
Clothing related travel gift ideas
Laundry bag – to stick all these smelly items in one place.
Scented bags (sachets)– so the suitcase smells good no matter what's in it (see above item for example…).
Laundry detergent – a travel size laundry detergent box or sample bag can save the day in an emergency stain situation.
Pegs – a small yet essential travel gift idea. You cannot believe how useful pegs are when you need to hang items to dry or gather items together.
Folding tot bag – for spontaneous shopping
Travel compression bags – the ones you put your clothes in and compress by sucking the air out of. They save loads of suitcase space when packing.
Wrinkle release spray
Shoe bag – to separate shoes from other packed items. It can be any fabric bag (e.g. reusable fabric grocery bags).
Time passing aids
song playlist – save a cool song collection on the above memory stick for your recipient to enjoy when "killing time". For a personal touch, record yourself telling a joke, singing a song or just expressing how much you miss the recipient, and add it to the playlist to surprise him/her.
Earphones – because what's a playlist good for without a pair of earphones? an absolute essential travel item when passing time (at airport/ plane/ train etc).
Eye mask and Ear plugs – two classic travel gift ideas that can improve any trip.
Inflatable travel pillow
Book – there is nothing like good book to pass the time. Especially when all electronic gadgets run out of battery or cannot be used…
Magazine – same idea as a book but for lighter readers.
Toiletry related gift ideas
Travel size toiletry containers – your recipient can fill them with his/her favorite toiletries.
Travel size toothpaste – one of the essentials you don't want to run out of when traveling. Full size toothpaste takes too much space and finding toothpaste once you are at the hotel is not as easy as it sounds.
Sample perfume – get a sample perfume / aftershave mini-spray at a cosmetics counter of any department store to include in your gift basket. It's much more comfortable to pack and a good chance to experiment with new fragrances.
Sleeping aids -include natural sleeping aids such as melatonin tablets or herbal sleep remedies for those who find it hard to fall asleep while traveling. Have a look at the light sleeper gift basket page for more ideas.
Lip balm – dry lips can drive one up the wall, especially on airplanes where the air is so dry.
Pain relievers – a few pain relief tablets just in case…