Arts and Crafts Gift Basket Idea for the Inner Artist in Anyone of Us
Headsup: this page may contain affiliate links as examples of items mentioned on this page. If you buy something through one of them, you won't pay a penny more but we will get a small commission. disclosure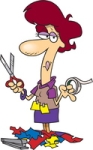 An arts and crafts gift basket is a celebration of colors and textures no one can resist. It makes you want to feel, touch and create as soon as you lay your hands on it!
There's no need to be extremely crafty to enjoy such a gift basket. On the contrary, this gift basket can bring out the inner artist in any "arts & crafts challenged" person. And if your recipient is on the crafty side, even better. He/she could always do with more arts and crafts supplies.
And the best of all, its content is so affordable, you can go wild with the quantity of items in it.
The below arts and crafts items are available at any arts and crafts or stationary store. For the best bargains check out dollar stores – they usually have a big variety of arts and crafts items.
Depending on your budget, pick some or all of the below items and put together a custom made gift basket to dazzle your recipient!
Arts and crafts gift basket ingredients
Scissors– plain ones or ones that cut in different cutting designs.
Ruler– preferably a metal one so it can be used for cutting with a self-retracting knife.
Self-retracting knife
Wire cutter
Craft wire
Glue– craft glue or an all-purpose one.
Glue gun and glue sticks
Sticky tape
Sewing needles
Crochet hook
Yarn
Crochet or sewing thread
Felt in different colors
Beads
Construction paper in different colors
Decorative stamps + ink
Special shape punchers
Color markers
Acrylic paint in different colors
Stencils
Paint brushes – if you include stencils in your gift basket, get some stencil brushes too.
Stickers
Glitter
Small pompons and other items you can glue onto art projects.
Arts and crafts magazine– a copy of a magazine or a subscription to one so your recipient can get crafty straight away. Or…(see below)
Arts and crafts book – get your recipient a book full of craft ideas to keep her/him busy!
Homemade arts and crafts workshop – if you happen to be crafty yourself how about this cool gift idea? Print out one of these blank gift certificates and invite your recipient to a one-on-one workshop with you and his/her new arts and crafts gift basket.